Fireside Chat with Dr. Benedict Tan and host Elliott Danker
10 June 2021 - As part of efforts to encourage a rethinking of live-work-play trends, Active Health initiated an engagement series of fireside chats with industry experts and members of the community. For the first session of this series, Dr. Benedict Tan, Olympian and former Nominated Member of Parliament (2014-2015), engaged in a lively virtual fireside chat on the topic of exercise prescription.
During the session, participants learned about the synergy between exercise and medicine, what is exercise prescription and what kind of people would benefit from an exercise prescription. Stressing the need for conditioning, Dr. Tan said "We have to move to keep our joints healthy; same thing with muscles, same thing with tendons. Why would the tendons stay strong if you are not even using them?"
➤ Find out more about the next fireside session.
Dr. Tan helped bust many myths and misconceptions. "Let's say I have knee pain, and I stop exercising. What happens? I lose the muscles around my knees, but the muscles (are necessary to) help support the joint - they help absorb shock. So without the muscles to absorb the shock, my (knee) cartilage will wear out faster. The last thing I'd want to do is to stop exercising and let my muscles get wasted because I need the muscles even more to protect my joints."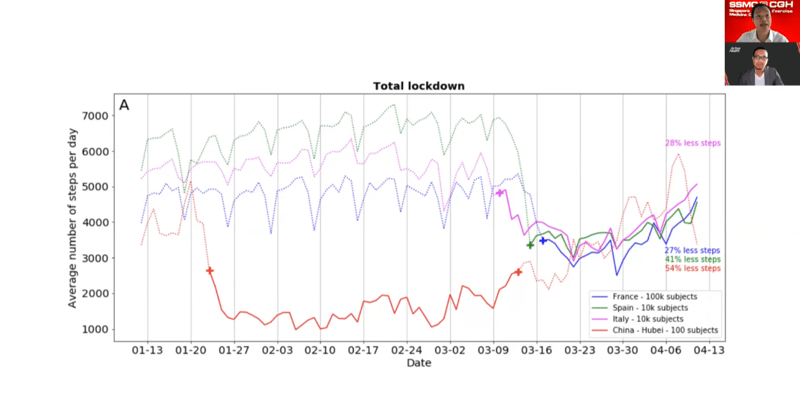 Pépin, J. L., Bruno, R. M., Yang, R. Y., Vercamer, V., Jouhaud, P., Escourrou, P., & Boutouyrie, P. (2020). Wearable activity trackers for monitoring adherence to home confinement during the COVID-19 pandemic worldwide: data aggregation and analysis. Journal of Medical Internet Research, 22(6), e19787.
Dr. Tan also gave insightful advice as to how participants could adopt a holistic view of incorporating discretionary exercise into daily activity, with the backdrop of a pandemic lockdown. After all, while it is easier to sustain the low-intensity daily activities, it lacks the fitness building that dedicated workouts provide.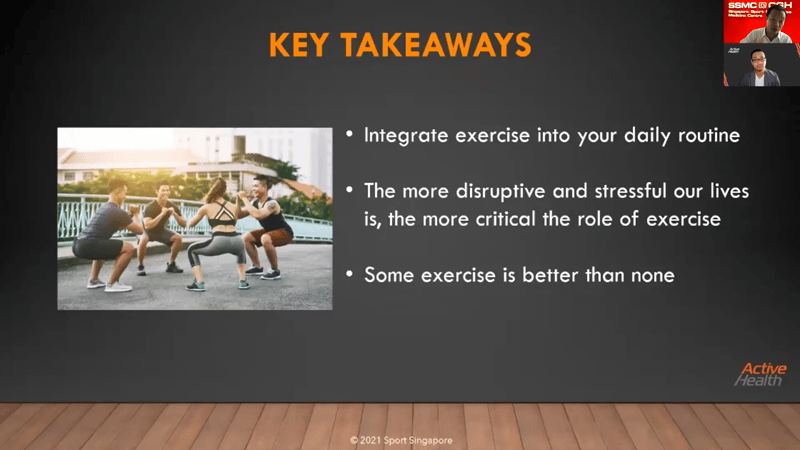 Key Takeaways - Image from Fireside Chat
➤ Watch the Session Highlights below:

It is recommended that individuals who are unsure how they should exercise, particularly those with underlying medical conditions, could consult the services of Active Health Labs. The Lab also offers programs that allow participants to have a better understanding of how they can take steps to manage their physical activity, sleep, nutrition and screen time.
➤ Read More: