Your sleep is suffering from screen time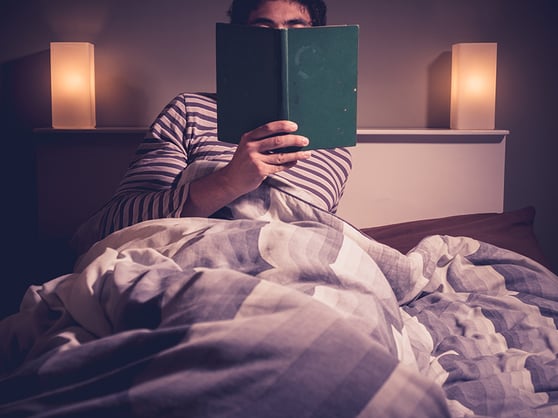 Sleeping more than 7 hours per night makes us more motivated and productive, and helps prevent almost every major chronic disease.
Screens are a convenient way to unwind. But that's a problem, because looking at screens within 30 minutes of bedtime (including televisions, computer screens, tablets, and mobile phones) compromises sleep. The blue light emitted by the screens suppresses the release of melatonin, an important sleep hormone. This makes it harder to fall asleep and stay asleep. And we don't wake up feeling rested and alert.
Using electronics before bed also makes us feel less sleepy. So we stay up later and don't get our 7 hours of sleep, making us part of the 44% of Singapore's adults who are clinically sleep deprived. By using habits to manage our screen time before bed, we can significantly improve this number, and our health.
MORE ABOUT DAILY HABIT #2: I WILL NOT LOOK AT SCREENS FOR A MINIMUM OF 30 MINUTES BEFORE BEDTIME
This habit reduces nighttime exposure to blue light and external stimulation from media, which suppress sleep hormones and mask tiredness. By paying attention to how tired you feel, you can naturally improve sleep quantity and quality.
How do I build this habit?
Decide on your bedtime, and make sure all screens are off 30 mins beforehand. This also cues your body to start winding down.
Create a bedtime ritual without screens. For example: wash up, read a book or magazine you enjoy (not from a screen!), and make a couple of notes about the things that need to be done the next day to get them off your mind. Get ready for the best sleep of your life!
Build this into your night time routine, and commit to being better, not perfect.
How do I measure my success?
Monitor: Make a note in the morning if you didn't avoid screens in the 30 minutes before bed.
Sources: