Lunch times can be the best and worst parts of an office professional's life. On one hand, the break is most welcome but on the other hand, lunch often involves a mad rush to get in a long line for food. Why not beat the queue and prepare your own lunch at home? Not only do you save time and enjoy more variety in your food choices, but most importantly you get to eat healthier too!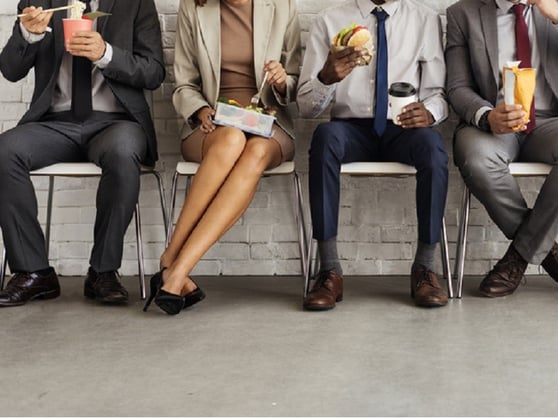 Photo: Active Health
The benefits of a healthy lunch
A healthy meal will leave you feeling refreshed and energised, instead of fighting a losing battle against the dreaded food coma. However, the real benefits of eating healthily go beyond the surface – a healthy, nutritious diet helps you fight off chronic health issues like heart disease and cancer, and improves your immune system and promotes healthy cell functioning.
The basics of healthy eating
• Involve multiple food groups
Most are already familiar with the various food groups – meat, vegetables, whole grains, fruits, dietary fat, etc.. A healthy meal should always comprise food from a wide spread of these groups to ensure a complete meal profile.
• Be mindful of snacking
Even the lightest of snacks can add up if allowed to spiral out of control. While there is nothing wrong with "smart" snacking, it should be a conscious decision instead of a knee-jerk one. One common pitfall to look out for is emotional snacking – eating during periods of stress.
• Proportioning your food
Besides food portion sizes, it's important to keep your diet balanced according to the different macronutrients. Adequate amounts of fat, carbohydrates and protein should all be part of a healthy diet.
• Get enough micronutrients
A meal isn't healthy if it isn't nutritious. Select nutrient-rich whole ingredients that contain essential vitamins and minerals your body needs to function. Colourful fruits and vegetables are your best bet for providing your body with what it needs in that department. Remember to "eat the rainbow"!
Preparing your own meals
Cooking for yourself is the best way to eat healthily as you get to control all the ingredients that go into the dish as well as your calorie and nutritional intake. Make meal preparations simpler with the following hacks.
• Plan ahead and buy groceries in bulk
Save trips to the grocery store by planning all your meals a week in advance. Looking at your schedule can help you decide how many meals you need to cook for yourself.
• Have special ingredients to spice meals up
Home-cooked food doesn't have to be dull and bland. Give your meals a fancier touch by utilising ingredients like herbs, spices and condiments that will make your homemade fare taste like restaurant food.
• Make use of the salad bar at the grocery store
Buying lots of different vegetables can be troublesome and expensive, but don't skimp on variety – hack the salad bar instead! Certain grocery stores come with fully-stocked salad bars which allow you to pick a variety of colourful veggies, which you can then stir fry or cook at home.
Shopping for ingredients can be made easy with the handy tips above, but what about actually planning for meals? There are lots of recipes you can find online or you can let your imagination flow, but here are 3 easy ideas to get you started.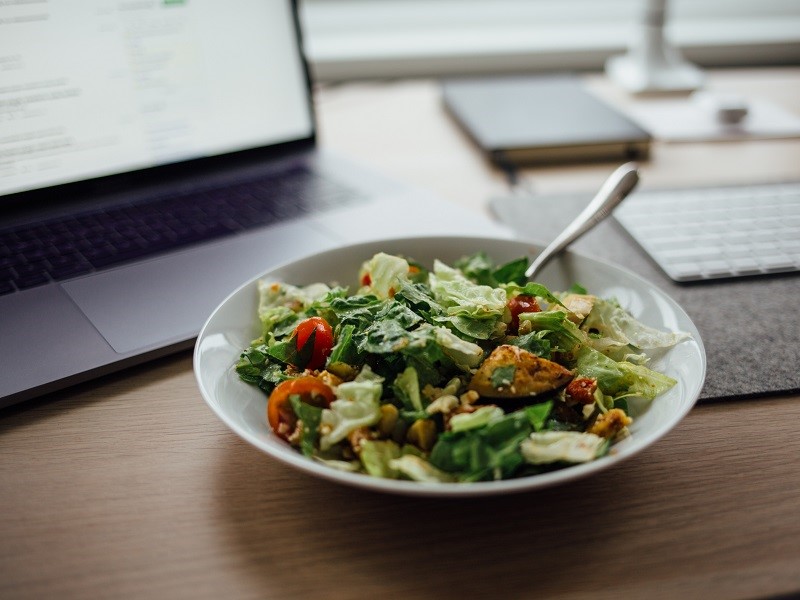 Photo: Active Health
3 ideas for a healthy lunch
1. Roast chicken and onion salad
Ingredients:
Large onion, finely sliced

¼ teaspoon salt
2 teaspoon sumacs
1 ½ teaspoon lemon juice
Ground pepper
100g cold roast chicken meat, shredded
A handful of chopped parsley
Instructions:
Add the onions in a bowl and scrunch the salt and sumac into the onion until well-mixed. Add the lemon juice and ground pepper.

Toss the chicken with the onion salad and some parsley.
2. Salmon and pasta salad with salsa
Ingredients:
Salmon fillet

Lemon slices
Cooking oil
Parsley
Basil
1 garlic clove
1 tablespoon capers
1 tablespoon pumpkin seeds
1 tablespoon Dijon mustard
2 tablespoon olive oil
½ lemon, juiced
80g asparagus tips
Salt
50g short pasta
Watercress
Instructions:
Season and oil the salmon fillet, cover with lemon slices and roast it at 190°C for 12 minutes.

To make the salsa, mince the parsley and basil with the garlic clove, capers and pumpkin seeds. Add the mustard, salt and pepper, olive oil, lemon juice and whisk.
Poach the asparagus in boiling salted water for 2 minutes and then boil the short pasta.
Drain and cool the pasta and mix with watercress, asparagus and salmon. Top it off with the salsa and toss before serving.
3. Poached eggs and avocado on sourdough bread
Ingredients:
2 pasteurised eggs

1 teaspoon butter
1 cup vegetables (any preferred kind)
1 large slice of sourdough bread, sliced in half
Lemon juice
1 avocado
2 tablespoon fresh lime juice
¼ cup water
1 tablespoon olive oil
Sprinkle of salt
¼ cup chopped cilantro
Instructions:
Blend the avocado, lime juice, water, olive oil, salt and cilantro in a blender to make avocado sauce. Set aside.
Fill a small pan with water. Add a few drops of lemon juice and a sprinkle of salt to the water then boil the water before letting it simmer.
Add the eggs to the water and let it poach up to 3 minutes.
Toast the bread lightly and cover it with vegetables. Top it off with the eggs and drizzle the avocado sauce on top.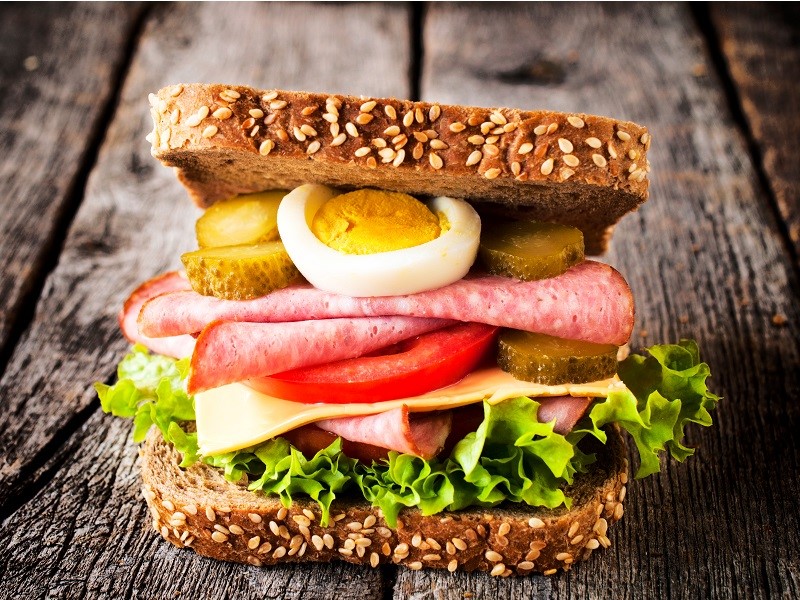 Photo: Active Health
When you really need to eat out
Preparing your own meals every day is ideal but can sometimes be impractical. In the busy life of an office professional, eating out is inevitable sometimes. However, there's no need for outside dining to become an excuse to forget all about healthy eating as there are ways to make eating out healthier.
• Look for dishes with various food groups
Going back to the basics of healthy eating, it's always a good idea to go with meal choices that include a wide variety of ingredients. Dishes like the Korean bibimbap is a good example of what you can order due to the inclusion of meat, vegetables and rice.
• Get smaller portions
Food from hawker centres and fast-food restaurants is usually high in oil and salt content, so go with a smaller serving size than what you'd usually have to avoid an excessive caloric intake.
• Pick healthier options
Substitute fried foods for grilled, boiled, baked or steamed ones and choose healthy side dishes like salad, vegetables and fruits to optimise nutrient density. Clear soup-based dishes like bak kut teh are also good choices.
• Minimise sauces and gravy
Most eating establishments tend to be generous when it comes to employing easy methods to ramping up the flavour of a dish. While they might seem harmless on the surface, things like sauce and gravy work best when enjoyed in slight amounts. It's hard to tell what actually went into the product and they are often quite dense in terms of calories.
• Keep your drinks light
Food aside, the typical menu of drinks (e.g. soda) from hawker centres and fast food outlets can have a negative impact on your health due to the high sugar and calorie content. Where possible, go for diet/sugar-free soda instead of regular ones, or unsweetened beverages such as green tea or plain water.
Besides adopting healthy eating habits when eating out, you can also keep yourself motivated to eat more healthily by adopting a nutrition plan – below are some of the most popular ones.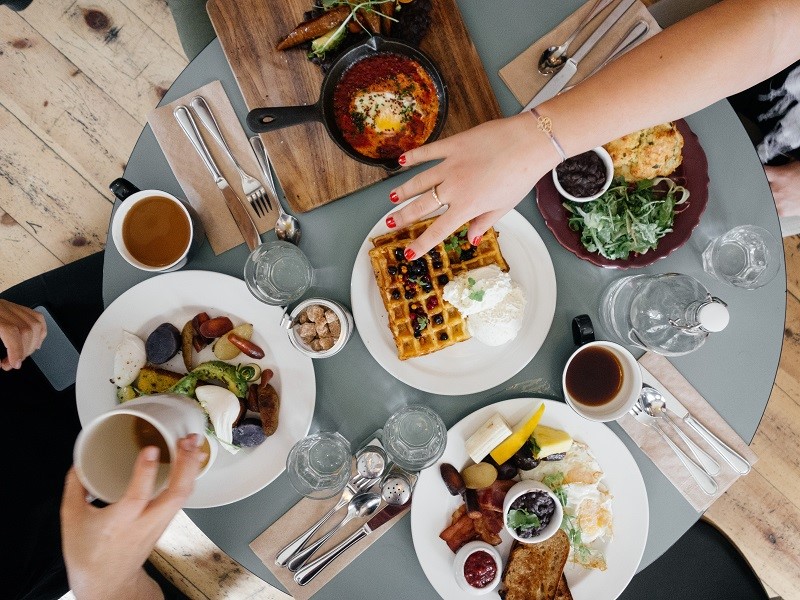 Photo: Active Health
Nutrition plans to keep you on track
• Flexitarian
This diet is all about being a flexible vegetarian – you benefit from the greens and can still obtain healthy proteins from meat once in a while. Be honest with what counts as "once in a while" though!
• Pescatarian
A portmanteau of the Italian word for fish (pesce) and "vegetarian", the pescatarian nutrition plan sees fish and seafood as the primary sources of protein instead of land-based animal meat. Various vegetables and whole grains make up the rest of this popular eating style.
• Mediterranean
More lifestyle than outright nutrition plan, the pescatarian approach places emphasis on eating as a social occasion that deserves to be celebrated. It also focuses on foods that are healthy for the heart, focusing especially on healthy fats like nuts and avocados while keeping the intake of red meat to a modest level.
While dieting may be a temporary phase, healthy eating is a lifestyle that you should maintain in the long run. As office professionals with hectic work schedules, it's important that you eat healthily to boost your physical and mental health. Preparing your own meals can be troublesome at times, but will be highly rewarding to your health (and taste buds). If you have any burning questions on how to optimise your nutrition, speak to our Active Health Coaches at Active Health Labs located island-wide on how to bring your relationship with food to the next level!