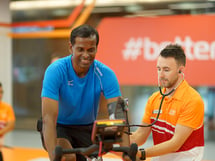 The Active Health Lab is a key component in the social movement which encourages Singaporeans to proactively take ownership of their health and wellness. Leveraging on knowledge of exercise, sport science, medicine, health and wellness that is supported by technology, the one-of-its-kind proactive space provides guidance to preventive healthcare and exercise advisory to deliver effective and engaging experiences for the community to embrace active living on a sustained basis with the aim of promoting the ownership of one's health.
The first Active Health Lab was opened in August at Our Tampines Hub (OTH), while the second and largest Lab was officially launched at Heartbeat@Bedok (HBB) on 4 February 2018.
The Lab offers the following programmes which allows participants to have a better understanding on how they can take steps to manage their physical activity, sleep, nutrition and screen time:
• Standard Fitness and Health Assessment Session (a pre-requisite for subsequent fitness assessment)
• Themed classes and workshops
Test Stations to measure grip strength, blood pressure, and cardiovascular will also be made available under the supervision of the Active Health Coaches.
Contact us for your first fitness and health assessment experience!